User Experience vs Customer Experience
User Experience and Customer Experience what's the Difference?
What is User Experience (UX)?



The user experience is product (or service) specific. It is the experience that a user (or customer) has when they interact with that product. We can measure the results of the user experience to some extent too. We can look at satisfaction reports, the level of customer care enquiries following an interaction, the time it takes to get something done with our product, etc.
What is Customer Experience (CX)?



Customer experience is a larger concept. It is the experience that a user (or customer) has whenever they interact with our company or brand. Again we can measure some of this in satisfaction reports, in recommendation rates (would you tell a friend about us?), etc.
In essence user experience is a subset of customer experience. If you added up the sum of all knowledge on each individual user experience with your products and services; you would (theoretically) be able to explain your customer experience. Sadly, that's not quite how it works and it's why we need to remain conscious of both when we design products and services.
Why Do We Need to Consider CX when We're Working With UX?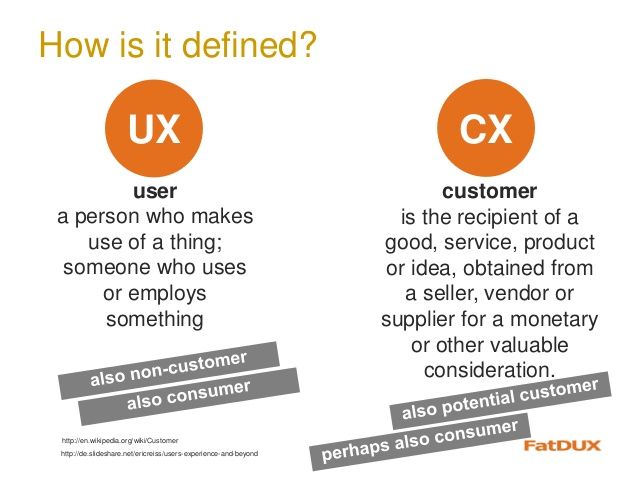 Let's say you are the UX designer on a major online retail store. Your job is to build a website which can be easily found on the internet, which customers enjoy spending time on and more importantly still – that they enjoy spending money with.
So far, so simple, right? You go out and do your user research. You use that to inform your design process and because your team are as least as brilliant as you are; they deliver exactly what you expect.
On the first day your website receives thousands of hits and every customer who lands on that site buys something! You are better than Amazon! Then three weeks later… your company goes out of business. But… the UX was perfect right?
It was but the CX sucked. You sold thousands of products on Day One but they neglected to mention that the warehouse wasn't full of these products; initial expectations were to sell a little and scale up operations. This wouldn't have been a total disaster but no-one trained the customer care agents to expect this – they've been receiving angry phone calls without end. So they all quit and went to work for somewhere less stressful. Your angry clients have all gone out and claimed refunds on their credit cards too…
User experience must always be seen in the bigger context of customer experience or it's entirely possible that our work will be wasted even when that work is brilliant.